Biography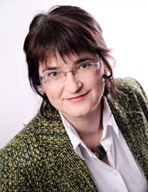 Anne Borowski studied Construction Engineering at the university of technolog Dresden
In 1994 and 1995, she and her familylived in California.
In 1998 Anne Borowski and her familylived in Texas. Afterwards, she published an article about "appraisement in the USA" in the magazine "Der Sachverständige" in Germany.
She works as a publicly certified appraiser and for twenty years she has headed her own office.
In 2001 she was "publicly certified" bythe Dresden Chamber of Commerce and Industry. The "public certification" is an official recognition given to experts by German Chambers of Commerce and Industry. It attests thorough qualification and impartiality.
Only experts of outstanding quality receive this title. All kinds of surveyors can apply for the title.
Anne Borowski received it for the appraisal of real estate property.
This certification can be compared to the British title "Chartered Surveyor" awarded by the RICS.
In 2007 she was also accredited by HypZert institute as an HypZert Real Estate Valuerfor Financial Purposes.
Anne Borowski is member of the Saxon Association of Publicly Certified Experts.
She is member of the Committee of appraisers of Dresden.
She is member of the surveyors society "Expertise in the area of Construction", a federation of
building surveyors who are active throughout the whole country.